Media & Download
Here you can download documents or films.
Declaration of consent for parents/guardians
Persons under 16 years of age must provide proof of the consent of their legal guardian for their application. You can download the form for the declaration of consent for parents/guardians via the following link: Download (German only)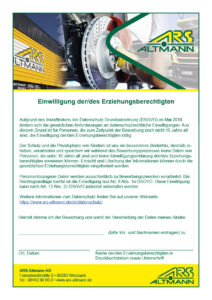 A people's business
In the new image film we show you why the claim of ARS Altmann AG "Dynamic Service. Dedicated" is so apt: Our committed team is the key to success.
The art of packaging
The HCRRS is not an ordinary, purely functional wagon. It includes philosophy and pioneering spirit of ARS Altmann AG.
Think twice
In line with our devotion to sustainability, our Italian project was completed with heart and mind.
Now we are pleased to present to you our new solar base of operations: Piadena, more than just a compound.
Heartbeat
The film shows our corporate culture and principles in a great animated film.