Our responsibility
As one of the largest logistics companies in Europe, we are aware of our social responsibility. We have set out our values in the mission statement of ARS Altmann AG, which serve as a guideline for our daily dealings with customers, business partners and colleagues and demonstrate our corporate goals. We are committed to environmental protection and therefore continuously optimize our processes and further develop our assets. This is evident not only in our certified management systems according to ISO standards, but also in many practical examples. We not only talk, we become active and carry out innovative Projects.
Focus on people - loyalty is our capital
For us, progress and growth are not only economic but also socially oriented principles. We support the personal development of each individual through training and further education. The recognition and promotion of individual potential is reflected in the high level of identification and loyalty of our employees with the company. In addition to the many opportunities for further training in all areas, it is also important to continuously develop the social skills of all managers and to express solidarity and mutual appreciation through social events, also outside of work. Only together can we ensure the continued existence and growth of our company.
Cultural understanding - sovereignty in dealing with customers and partners
Our trained employees are not only able to make our customers' internal processes and specialist knowledge of the industry clear and transparent and to translate them into their own language, they are also competent in understanding the corporate culture of their customers and business partners. From a qualified assessment of the customer's request for our services to the implementation of the customer's requirements in clearly defined processes up to the conclusion of the order, ARS Altmann AG can communicate all processes in the appropriate form at any time.
Intelligent technology - systematic use saves time and money
We use innovative, networked hardware and software to create measurable added value for both our employees and our customers. Not only in communication technology, but also in transport technology we regularly update ourselves to the latest state of the art in order to be able to guarantee optimally adapted and effective work processes for our customers. Our internal IT systems ensure that all decision-relevant data is available in all departments, and customers will soon be able to track the real-time status of their orders at any time.
Reliability generates trust, both internally and externally
Transparency at all levels, both in the disclosure of all operational processes and in internal and external communication, is a key to the long-term successful development of our company. Through this sincere and respectful interaction with each other, we promote the comprehensibility of all company-relevant decisions and offer a forum for open discussion. Transferring responsibility means creating responsibility: Our organizational structure is increasingly focusing on initiative and responsibility. We trust our employees and strengthen their self-esteem and thus their personal commitment through the targeted transfer of responsible tasks. Efficiency is our daily bread and butter. We distinguish ourselves by maximum effectiveness in all operations. On the one hand, our employees can rely on the reliability of our process worlds, on the other hand, it is the guarantor of the satisfaction of our customers and business partners, whose trust we would like to win and consolidate in the long term. our daily bread and butter. ARS Altmann AG is characterized by maximum effectiveness in all operations. On the one hand, our employees can rely on the reliability of our process worlds, on the other hand, it is the guarantor of the satisfaction of our customers and business partners, whose trust we would like to win and consolidate in the long term.
Maintaining decency, defending values - dealing with corruption
ARS Altmann AG does not tolerate any form of corruption, either internally or externally, and is not afraid to take active action against any corrupt or ethically unacceptable business practices. We always act in the interests of our customers, support fair working conditions and stand for fair competition at home and abroad.
Sustainability - a great promise to put it into practice
As an automotive logistics company, we have been dealing with mobility and environmental issues for over 40 years and are aware of our responsibility. Each of our core areas, road and rail transport and the services and equipment of the bases are subject to criteria of raw material consumption, pollutant production and the respective regeneration possibilities and we see it as our duty to provide our customers with environmentally friendly, low-emission transport, maintenance and care methods in spite of often tense market conditions. On a social level, sustainability means for us being able to offer our employees a safe and inspiring working environment. This means not only meeting occupational safety standards and appropriate pay, but also achieving a healthy balance between health, a reasonable work-life balance, equal opportunities and the possibility of reconciling work and family life.
Innovation - whoever wants to grow must invest
The ARS Altmann Group gladly accepts the challenges of new orders and sees itself in a position to react flexibly and progressively to changing market conditions and to invest strategically well thought-out. In addition to our cooperation with long-standing business partners, we have a pool of steadily growing assets of our own and see ourselves as a pioneer and driving force in the development of alternative drive systems. This implies maximizing occupational health and safety for our employees as well as reducing emissions for the environment.
Last but not least - passionate about the cause
Our corporate culture is characterized by mutual respect and the pursuit of common goals. Self-determined employees and executives, identified by their work, contribute with their professional and social skills to solution-oriented and cooperative behaviour both internally and externally and establish an authentic "feeling of togetherness". As a team, we can confidently secure the existence and growth of ARS Altmann AG and master future challenges.
Our management systems
We stand for a proactive quality, environmental and energy philosophy for the continuous improvement and sustainability of our services. The Integrated Management System (IMS) continuously supports ARS Altmann AG in providing high-quality services to meet the requirements of our customers and legal requirements. The implemented Q/ U/ EMS is regarded by us as a business management tool, which offers a high degree of transparency for the customer and our employees through traceable process flows. Our management systems are used in the areas of automotive logistics, service, car repair shops, railway traction and logistics as well as maintenance management.
Our responsibility – our projects
We live our responsibility, because only those who act can make a difference. Our projects are testimony to our active commitment to the sustainable provision of our services and our ongoing efforts to optimize our assets.
Development of new wagons
Our specially developed wagons are already designed to meet the requirements of the automotive industry and the legal regulations of the coming years.
Photovoltaic systems
To protect vehicles against environmental influences, we have installed photovoltaic systems at various locations. At the same time, we also use it to produce environmentally friendly energy.
100 % electric power
We were the first company in automotive logistics to include a 100 % electrically powered truck in our fleet. The truck comes from Terberg, the trailer from Rolfo.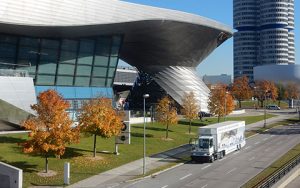 Conversion to LED
The lighting at all locations will be gradually converted to LED. In this way, we not only save energy costs but also bring our assets up to the latest technical standards.