The perfect start to your career
We offer students, school-leavers and graduates the ideal start to their working life:
Whether vocational training, dual studies or a trainee program – our focus is on the professional and personal development of tomorrow's specialists and managers. We want to continue to grow and therefore rely on qualified junior staff from our own company. The sensible combination of theoretical and practical phases plays a decisive role for us, because we want to prepare our junior staff in the best possible way for the specific requirements of everyday professional life. And this claim is reflected in our entire range of products and services.
All vacancies are available in our job portal. The application itself can be made quickly and easily using the online form.  Due to data protection reasons applications by e-mail or via the contact form are unfortunately no longer accepted.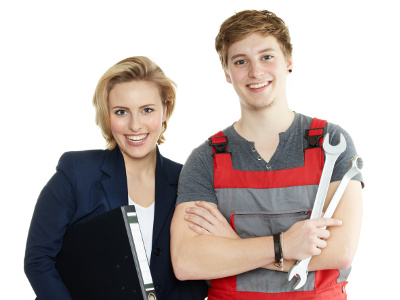 Our twelve-month trainee program offers graduates a "soft" start to their working life. Various specialist departments and their fields of activity await the graduates and they are actively involved in day-to-day business from the very beginning and entrusted with exciting tasks. During the course of the program, they will not only learn about all relevant departments and the associated processes and procedures, but will also acquire specialist knowledge related to the respective department. In this way, theory and practice are perfectly combined and the graduates are introduced to the assumption of a responsible position.